After an amazing weekend dedicated to the Toyo Tires Desert Challenge Presented by Monster Energy T1 Desert Invitational, on Monday 1st February took place the qualifying for the UTV race (Jay Shaw got the first position on the starting grid) and in the evening the long-awaited and spectacular Shootout won by Chris Kaufman.
KOH Media


Can-AM UTV King of the Hammers Presented by Progressive Insurance Qualifying
For the fifth year, qualifying will determine the starting order for the Can-Am UTV King of the Hammers Presented by Progressive Insurance.  This race has exploded in popularity, and UTVs are once again the largest class at KOH with well over 100 entries. Qualifying have begun at 9 AM and conclude at 5 PM, with drivers situated in one-hour blocks to allow them as much time as possible to prerun and prepare for the race without having to wait in line for qualifying.  Some drivers are conservative, while others will give it everything to gain starting position. Note that qualifying for all the races besides the 4400 race during KOH week is optional, and teams can decline to qualify and take a rear start in their race. Jay Shaw with a time of 1: 40.140 got the first position on the starting grid.
1° Jay Shaw - 1:40.140
2° Nathan Wolff - 1:40.989
3° Ronnie Anderson - 1:41.553
4° Hunter Miller - 1:42.194
5° Dustin Jones - 1:42.362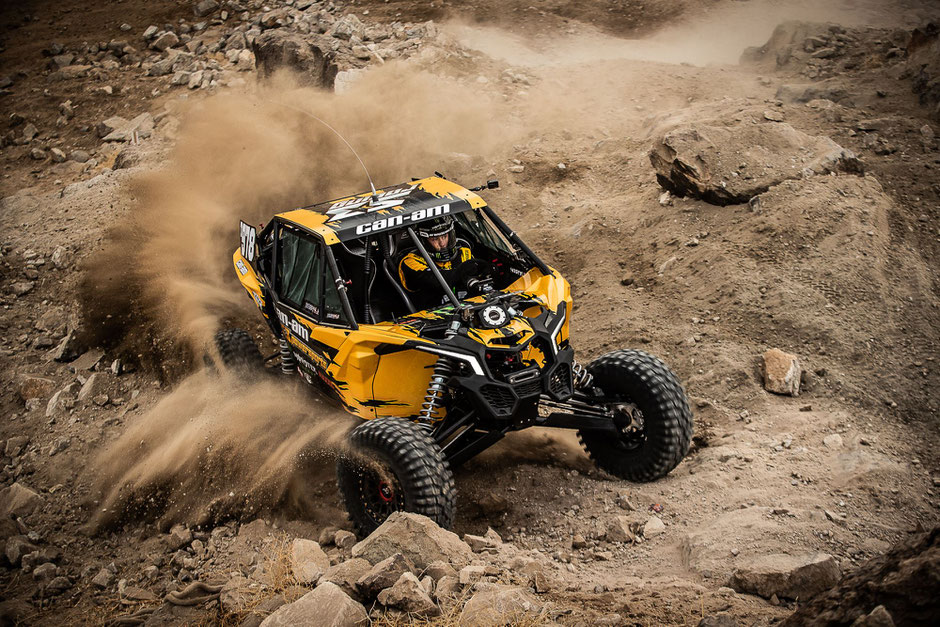 The Holley EFi Shootout and The Lasernut Rock Coronation
Arguably as action-packed as KOH itself, people come early in the week to Hammertown just to watch the Shootout.  On Monday night, rigs ranging from homebuilt buggies to high horsepower rock bouncers from Southern Rock Racing Series (SRRS) compete for the fastest time up a huge vertical rock ledge.  Originally an impromptu gathering at the Backdoor obstacle, the Shootout will be held just to the south of Chocolate Thunder.  Since these drivers go for broke (and often get there) and recovery can be time consuming, the brand new Lasernut Rock Coronation has been added for 2021.  This event consist of the best rockcrawlers in the world attempting to be first to run a brand-new trail adjacent to the Shootout course.  Total prize purse is $12,500 with $7,500 going to the fastest time. Chris Kaufman was the fastest in the Shootout
1° Chris Kaufman - 60.5 sec
2° Paul Wolff - 62.3 sec
3° Lason Bartram - 70.1 sec
4° Joshua Thomerson - 75.4 sec
5° Cash Lecroy - 76.5 sec
6° Anthony Yount - 84.1 sec
7° William Karras - 96.1 sec
8° Justin Willis - 97.8 sec
9° Craig Blakenship - 112.1 sec
10° Marcus Alonzo - 138.2 sec
11° Julian Garduno - 144.7 sec
Paul Passien DNF n/a
Nikolaus Pries DNF n/a
Kacy Thompson DNF n/a
Marc Nero DNF n/a
Ryan Webb DNF n/a
Chase Hunter DNF n/a
Robert Karras DNF n/a
Dillon Carlson DNF n/a
Steven Poole DNF n/a
Chris Branton DNF n/a
Chase Hunter DNF n/a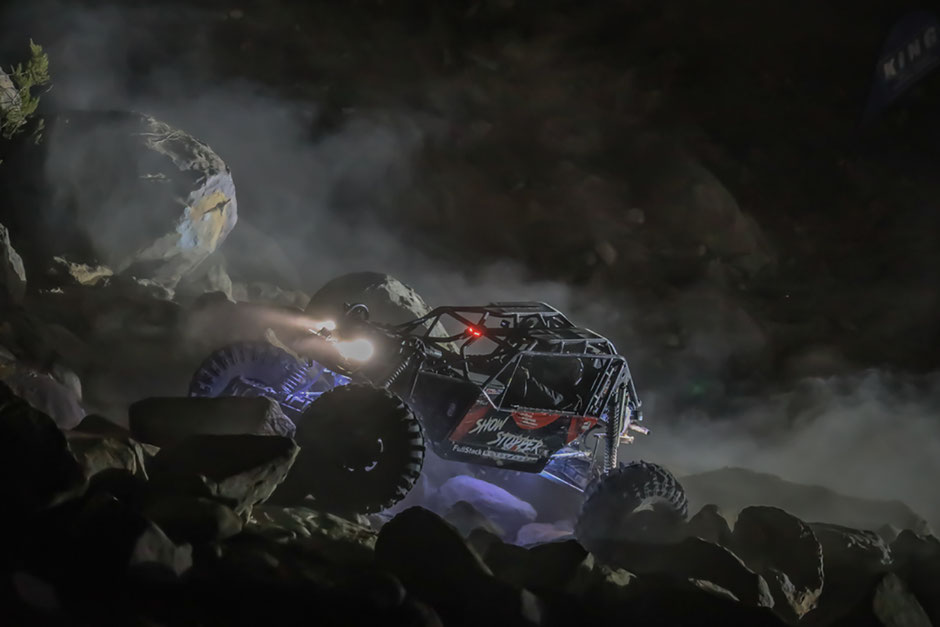 Cash LeCroy (5th in this Shootout) first entered the Holley EFI Shootout Presented by King Shocks and Action Sports Canopies in 2019 at the age of 9. Three years later he has moved up from a UTV to a Tim Cameron buggy with a 1000 horsepower big block engine. We have to wonder what Cash will be driving when he turns 16!
---
---