La King of the Hammers, è considerata la "corsa fuoristrada di un giorno più dura del mondo". È la pietra angolare di un festival off road di una settimana a Johnson Valley, in California. Si prevede che oltre 60.000 spettatori parteciperanno mentre altri milioni guarderanno online! Dal 27 gennaio al 5 febbraio, l'epica settimana di King of the Hammers andrà in scena nella Johnson Valley (CA).
Foto e testo di Paolo Baraldi


C'era una volta un cavaliere, di nome Dave Cole, che sognava un nuovo modo per cavalcare le desolate terre della Johnson Valley.
Nel 2007, questa sua visione diventò realtà!
13 cavallieri, gli OG13, a bordo dei loro cavalli rombanti a 4 ruote motrici, si sono sfidati nel Lakebed per vedere chi fosse stato il più veloce a percorrere 35 miglia sui più duri Hammers della Johnson Valley.
In quel lontano 2007 è nata la King of the Hammers: la più dura gara offroad di un giorno, dove, oggi, i veicoli chiamati Ultra4 sfrecciano nel deserto a 135 miglia all'ora con pneumatici da 40 pollici  e con lo stesso veicolo scalano i canyon rocciosi con enormi massi.
Questi sono veri eroi!
E questi sono i Re della King of the Hammers:
2007: JR Reynolds
2008: Shannon Campbell
2009: Jason Scherer
2010: Loren Healy
2011: Shannon Campbell
2012: Erik Miller
2013: Randy Slawson
2014: Loren Healy
2015: Randy Slawson
2016: Erik Miller
2017: Shannon Campbell
2018: Jason Scherer
2019: Jason Scherer
2020: Josh Blyler
2021: Randy Slawson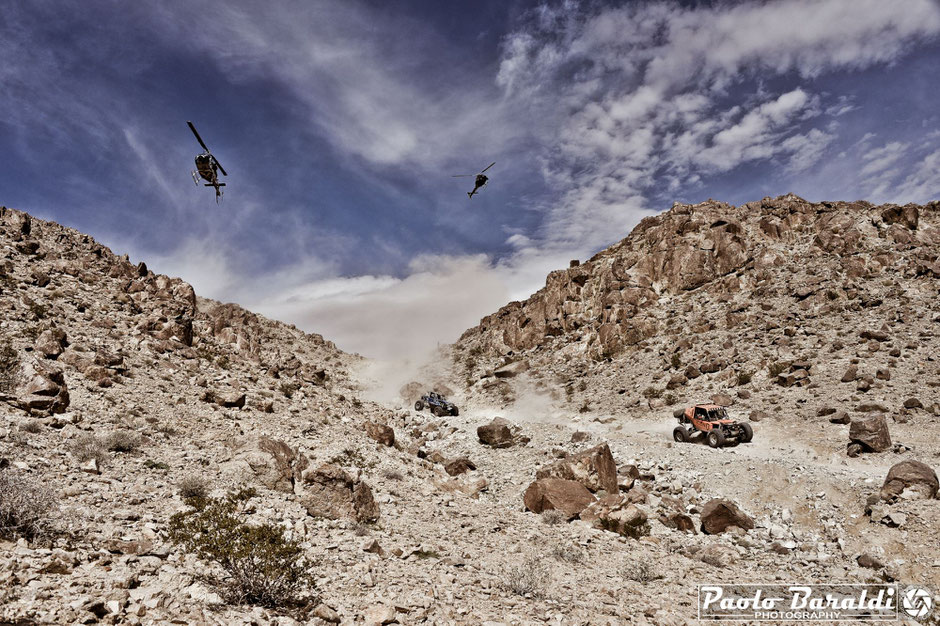 2022 King of the Hammers Week
Oggi, la King of the Hammers è diventata un evento nell'evento, una intera settimana di gare uniche ed adrenaliniche.
Dal 27 gennaio al 5 febbraio, anfrà in scena l'epica King of the Hammers week con questo programma:
-  Giovedì 27 gennaio (Hammertown Opens)
Pre-Running Full Course
12:00 PM Pre-Running Opens / Course Map Released – Must be Registered 
- Venerdì 28 gennaio
Pre-Running Full Course
7:00 PM Toyo Tires Desert Challenge presented by Monster Energy, Mandatory Driver's Meeting (All Classes) 
- Sabato 29 gennaio ~ Toyo Tires Desert Challenge for Limited Buggies, presented by Monster Energy (B2, B3 & B4), Day 1
Pre-Running Closed / Hot Racecourse
7:00 AM Toyo Tires Desert Challenge presented by Monster Energy Contingency / Tech / Qualifying
11:00 AM Toyo Tires Desert Challenge presented by Monster Energy - Limited Buggies (B2, B3 and B4) Day One Racing
6:00 PM Class 11 Showdown
7:00 PM Live Music Begins 
- Domenica 30 gennaio ~ Toyo Tires Desert Challenge for Unlimited Trucks and Buggies, presented by Monster Energy (T1, T2, B1 & U4), Day 2
Pre-Running Closed / Hot Racecourse
10:00 AM Toyo Tires Desert Challenge presented by Monster Energy - Unlimited Trucks and Buggies (T1 / T2 / B1 & U4) Day Two Racing
7:00 PM King of the Hammers Qualifying: Mandatory Drivers Meeting 
- Lunedì 31 gennaio ~ Can-AM UTV King of the Hammers: Qualifying | The Holley EFi Shootout
Pre-Running Day (short course closed for pre-running & Shootout area closed for pre-running)
9:00 AM Can-Am UTV King of the Hammers Qualifying
4:00 PM Power Hour
6:00 PM Holley EFi Shootout Presented by King Shocks & Action Sports Canopies 
- Martedì 1 febbraio ~ 4WP Every Man Challenge: Qualifying | The Pit Crew Challenge presented by Pro Eagle and Buggy Whips
Pre-Running Day (short course closed)
9:00 AM 4WP Every Man Challenge Qualifying
12:00 PM Great American Short Course Exhibition
4:00 PM Power Hour
5:30 PM The Pit Crew Challenge, presented by Pro Eagle and Buggy Whips 
- Mercoledì 2 febbraio ~ King of the Hammers: Qualifying + LCQ
Pre-Running Day (short course closed)
9:00 AM King of the Hammers: Qualifying
10:00 AM Can-Am UTV King of the Hammers: Tech & Contingency
4:00 PM Power Hour
6:00 PM Mandatory Drivers meeting (All Classes | KOH, EMC, UTV)
7:00 PM Live Music Begins 
- Giovedì 3 febbraio ~ The Can-Am UTV King of the Hammers
Pre-Running Closed / Hot Racecourse
8:00 AM The Can-Am UTV King of the Hammers START
10:00 AM 4WP Every Man Challenge: Tech & Contingency
5:00 PM The Can-Am UTV King of the Hammers END 
- Venerdì 4 febbraio ~ 4WP Every Man Challenge
Pre-Running Closed / Hot Racecourse
8:00 AM The 4WP Every Man Challenge START
10:00 AM King of the Hammers, powered by Optima Batteries: Tech & Contingency
6:00 PM The 4WP Every Man Challenge END 
- Sabato 5 febbraio ~ The 2022 King of the Hammers, powered by OPTIMA Batteries
Pre-Running Closed / Hot Racecourse
8:00 AM The 2022 King of the Hammers, powered by Optima Batteries START
8:00 PM Live Music Begins
10:00 PM The 2022 King of the Hammers, powered by Optima Batteries END
Per approfondire sul sito di Ultra4 Racing
---