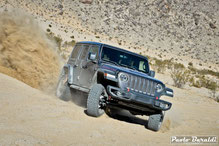 Abbiamo provato, in esclusiva europea, la nuova Jeep Wrangler JL Rubicon quanto ancora nel Vecchio Continente non è stata presentata. Ecco le nostre impressioni di guida, cosa ci è piaciuto e cosa no.
Foto e testo di Paolo Baraldi
Avere l'occasione, ed in esclusiva europea, di provare la nuova Wrangler JL quanto ancora nel Vecchio Continente non è stata presentata e farlo la dove è nato il mito Jeep è una vera e propria libidine. Grazie a Jeep US, presente ad Hammertown, in quanto partner della King of the Hammers, ho avuto questa ghiotta opportunità. Sono consapevole, ed approfondirò più avanti l'argomento, che la versione europea sarà lievemente diversa ma ritengo comunque interessante raccontarvi le mie impressioni visive e di guida.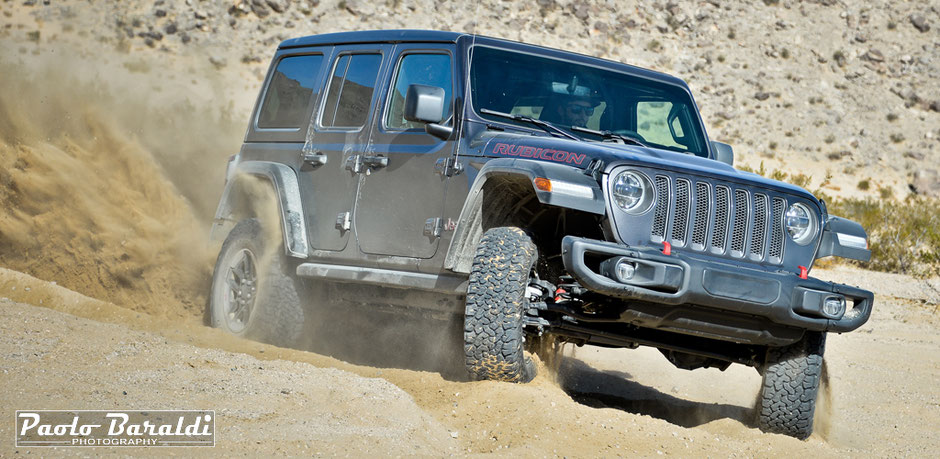 La Wrangler che ho guidato nella Johnson Valley è una JL Rubicon a 4 porte motorizzata con il propulsore Pentastar V6 da 3,6 litri da 285 cavalli e 352 Nm di coppia con il cambio automatico a 8 rapporti. Le prestazioni e la fluidità di questo motore sono veramente impressionanti con una buona progressione che fa ben sentire tutti i suoi cavalli. Purtroppo, dalle anticipazioni ufficiose che ho avuto, in Europa non arriverà mai ufficialmente questa motorizzazione a benzina che sarà invece rimpiazzata dal nuovo quattro cilindri in linea turbocompresso da 2,0 litri con tecnologia eTorque da 270 cavalli e 400 Nm di coppia massima. A detta degli ingegneri FCA è un ottimo motore che seppur di cilindrata inferiore, ha potenza da vendere. Preferisco però attendere la presentazione qui da noi per parlarvi a ragion veduta di questo propulsore e del suo comportamento. Il cambio automatico a 8 rapporti mi ha permesso di avere sempre la marcia più adeguata con una buona fluidità nella cambiata. La guida su strada è molto piacevole e confortevole con le sospensioni che lavorano abbastanza bene e che limitano il rollio laterale anche negli inserimenti in curva più decisi. In offroad, la trazione con il nuovo sistema Rock Trac 4x4 e la maggiore mobilità degli assali sono formidabili. Questa JL è molto divertente da guidare sulle piste anche se ho notato che sulle woops, con cinque persone a bordo, le sospensioni posteriori vanno spesso a fine corsa. E' vero, ho voluto esagerare con il carico ma secondo me restano  un po' troppo morbide. Per quanto riguarda la mobilità nel fuoristrada più impegnativo, non mi è stato permesso di guidarla in un trail del Lakebed ma Dave Cole e JT Taylor che lo hanno fatto proprio sul percorso delle qualifying ne sono rimasti piacevolmente soddisfatti: " il Crawl Ratio e fantastico!"
Esternamente il nuovo design, che non smentisce le origini e la storia di Jeep, mi piace molto e molto di più rispetto a quello del JK. In particolar modo mi sono innamorato della nuova calandra frontale che regala un aspetto più aggressivo e delle prese d'aria sui passaruote anteriori che oltre a conferire un aspetto più sportivo sono funzionali per la dispersione del calore del vano motore e per eliminare la vibrazione del cofano che affliggeva il JK. Continuando la mia osservazione, altri due aspetti mi hanno colpito: i fenders anteriori che sono più alti ed il cofano della versione Rubicon che trovo fantastica. Peccato che non è presente sulle altre versioni. Un discorso a parte merita il paraurti anteriore. Nella versione a Stelle e Strisce è molto bello, compatto e ben si integra con il resto del corpo della JL; peccato che in Europa non sarà lo stesso e ci dovremo accontentare dell'inguardabile "fioriera". 
La cosa più bella dell'abitacolo è sicuramente il softop che si apre elettronicamente per la sua intera lunghezza. Un vero spasso per chi ama non avere un tetto sopra la testa. Le plastiche del cruscotto sono in puro stile americano e cioè non di alta qualità e finitura ma la cosa che meno ho apprezzato è la colorazione vivace dello stesso. A parte questo aspetto soggettivo, seduti alla guida si è in posizione molto comoda e con una buona visibilità esterna. Sui sedili posteriori ci si può stare in tre persone di media corporatura anche se abbastanza "appiccicati". In conclusione, il Wrangler JL ha superato positivamente il mio test. Come detto, lo trovo più bello e con alcune interessanti migliorie rispetto al JK.