The French Aurelien Sagar and Jeremy Gauche won the 2018 European championship of Ultra4 Europe in the Stock category with a Defender build by WSR. In this article we will discover the secrets of this car and also how easy it is to compete in this kind of races in the Stock class.
Action photos and text by Paolo Baraldi - tech photos by Nicolas Stevenin

Is the Defender 90 V8 a good platform to build a Stock class Ultra4 racer ?
This is what we are going to answer with this particular Defender that just got released from 3 months inside Nicolas Montador's WSR workshop.
First, a question that may arise is about the "why?"
Why build a Stock Class racer while Nicolas Montador is mainly known for his Unlimited Ultra4 vehicles and this is also in this class that he races in, personally. Nicolas had a simple answer to us: "Many offroad enthusiasts think that you need a very elaborate, very expensive crazy machine in order to race Ultra4. I just wanted to show that you can enter the races and have fun with a limited budget."
For those who don't know him, Nicolas Montador is the owner and operator of the WSR shop, where he engineers and builds offroad vehicles, in particular racing machines. He himself races on the Ultra4 circuit since the beginnings of the sport in Europe.
The idea to build a Stock Class racer was always in the back of his mind, and he turned it into a reality this year. It's of course a way to show his shop's versatility and his talents as a craftsman when it comes to build a competitive racer while meeting a set budget. And as a show piece, this is a great success, just look at this white and orange livery with the exo-cage that contrasts on top of it!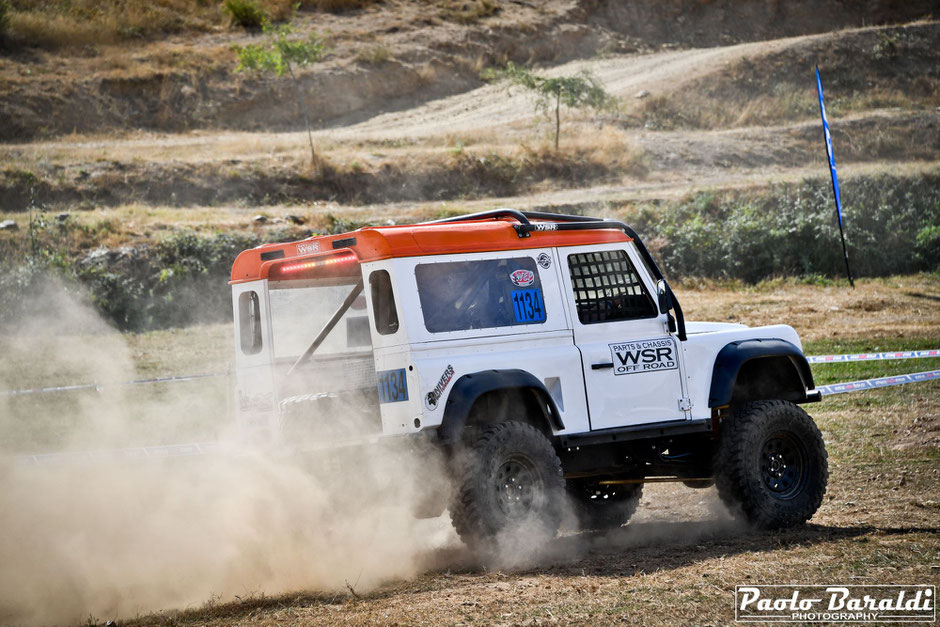 The Ultra4 Stock Class
I personally think this category is under-represented, and this is a shame since it allows to a lot of people to come and race without blowing their budgets or destroying their cars (Stock Class routes avoid the harder obstacles).
This is also the opportunity to enter a "real" race and have fun while being budget conscious. Even the entry fees are lowered for this class.
What are the specificities of the Stock Class?
- The spirit is to be able to ride with a non or lightly modified production 4wd vehicle.
- A 6 point roll cage is mandatory. Tubing size varies depending on weight (1.5"x.120" up to 1600kgs, 1.75"x0.120" between 1600 and 2200kgs and 2"x0.120" for 2200kgs and above). Little reminder, 1"=25.4mm.
- You will also need a set of SCORE/FIA sanctioned Race seats, 5 pts harnesses, a helmet, a HANS device and a fire safe suit. Add 2 fire extinguishers (one inside and one outside), a couple battery cutoffs (vehicle and winch), a horn, a first aid kit, a couple signs (OK and SOS) and a location for the race numbers (blue back ground).
- The vehicle needs to be a production vehicle (with at least 1000 units built), keep the chassis and most of its body (no trayback modification).
- Doors can be cut (half doors) or be replaced by tubes, but need to open and close.
Bumpers can be modified.
- Stock front light are mandatory, rears don't matter as long as a position and stop lights are fitted.
- Engines need to remain one of the available variations fitted to the stock vehicle from the factory, although a stroker/bored engine is authorized. You can install a Rover V8 in a 300TDI Defender for example.
- Radiator location can be shifted 6" from the stock one.
- Transmission needs to remain stock.
- Transfer case is free, meaning anything can be swapped in place of the factory one.
- Steering needs to remain fully mechanical, any steering box can be swapped into place of the stock one, but the location needs to remain 4" from the stock one.
- Axles are free, reinforced stock, swapped from another vehicle, custom.
- Suspension style needs to remain stock (leaves if the vehicle came with leaves from the factory, Coil springs and separated shocks, etc…)
- Shock location is free, as long as 1 per wheel is fitted. 2.65" of diameter x 14" of travel is the maximum size allowed for shocks in this class.
- Tires need to be DOT compliant with a max diameter of 35".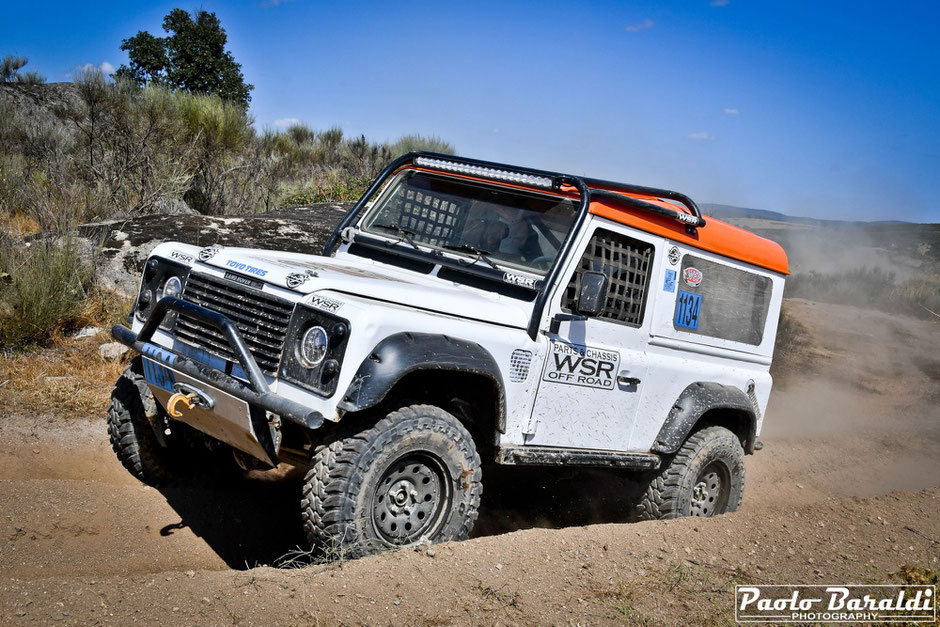 The race Def
Here we are looking at professionally built vehicle, with all the bells and whistles you'd expect from such a product: high-end parts and high build quality, an amazing vehicle in a nutshell. You can get inspiration from such a project in order to start your own at home. You will be able to reduce costs, especially if you choose less "exotic" components. Nicolas already owned the vehicle before the rebuild and took this as an opportunity to swap all common wear and tear parts such as brakes, filters, hoses, bolts, pumps, alternator, etc…
The engine of the Defender
The block is a 4.0 V8 (coming from a 50th anniversary Defender). It's got a stroker crankshaft to push the displacement to 4.6 (note that the only difference between a 4.0 and 4.6 Rover V8 is this particular crankshaft, the engines are very much alike one another). The injection is handled by a Sybele ECU, with a mapping done by one of Nicolas' friends: Yannick from AccessCars. The exhaust is a WSR custom piece, while the air going inside the engine is filtered by a Green conical filter.
The automatic transmission is a ZF 4HP22 stage 3 (built for racing) and a modified Winters Shifter is used to shift it. Nicolas had to modify the shifter as he couldn't find anything for his application.
The transfer case remains the stock LT230, a tough and proven box.
Hoses are AN style everywhere, except for the cooling where silicone hoses do the job.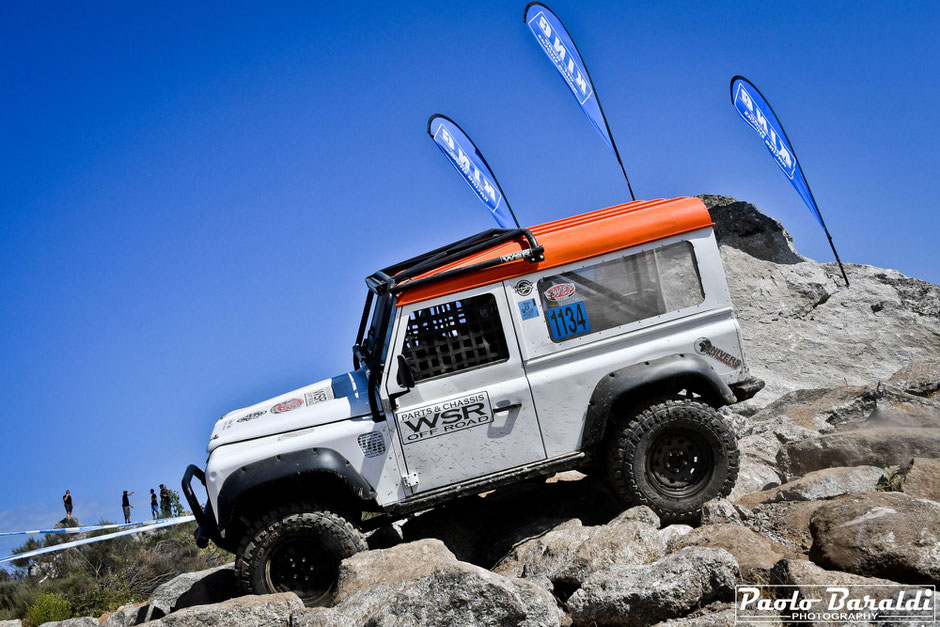 Axles and suspension
Discovery 2 axles replaced the original Rover type ones for strength. The front axle is fitted with 4.75 gears and an air locker, while the rear axle is spooled and had the same gear ratio swapped in.
A couple pumkin skids were welded on the housings to protect the gears in case of impact and bumpstops will limit the uptravel on violent compressions.
Terrafirma springs and 2.5" remote reservoir Fox shocks handle the suspension duties.
Rear links were custom built to use heims instead of bushings. Wheelbase has been stretched 3", bringing it to a total of 96". Front links are Discovery 2 radius arms which were cut and welded back on the stock ones to match both the chassis and axle ends.
Driveshafts were custom build by Nicolas.
Steering box is stock but brand new.
The cage and interior
The cage has been built by WSR and is a clever mix of interior (4 back points) and exo-cage (2 front points).
Safety being his main concern, no corners were cut and 25CD4S steel was used albeit you could use more standard material like DOM if you were to build your own.
An A- Bar was fitted to the front bumper which also includes a protection underneath. Mesh replaced the windows. 2 VisionX LED lights were installed to the rear and a big light bar from the same brand found its way up front.
The interior is high-end (as in any professionally built vehicle), with a carbon fiber dashboard which includes an AIM race display to keep an eye on the different info coming from an array of sensors (pressures, temps, speed, tach etc…). This unit also acts as an alarm (low pressure, high temp, …). But a standard set of gages would work as well.
The seats come from the OMP brand and harnesses are from GT2I.
The rear door was removed to make space for a spare , and the back hosts a massive ATL fuel tank needed to feed the thirsty V8.
And last the tires are Toyo OMPT 285/75r16 installed on steel wheels.
How much does all this cost?
Of course, such a high-end build has a high-end price tag (about 45.000€ with taxes for the whole vehicle). However, if you own a Defender already and are willing to do the work yourself, you could get a similar build with those parts:
- A used Rover V8: 1200 – 2000 €
- A used ZF4HP22 transmission: 800-1000 €
- A 6pt roll cage: 1500-2000 €
- A good suspension kit: about 1000 €
- 2 new seats: 520 €/pair
- 5 point harnesses: 110 €/piece
- Fire suit + helmet + Hans: roughly 800 €
Check out the King of France 2018 article to find out more about the race, but for now, enjoy some pictures of this great build in its element, racing!
MORE ABOUT WSR
WSR Offroad - WEP Racing WSR