I told you in detail how the BF Goodrich King of France went. Before closing this second chapter of the 2019 season of Ultra4 Europe, let's let some protagonists of the race tell this story.
Photography and story by Paolo Baraldi

Who better than those who have personally experienced the BF Goodrich King France can tell about the race with all the emotions that are only of those who lived them.
Rob Butler, Ultra4 Europe BF Goodrich King of France winner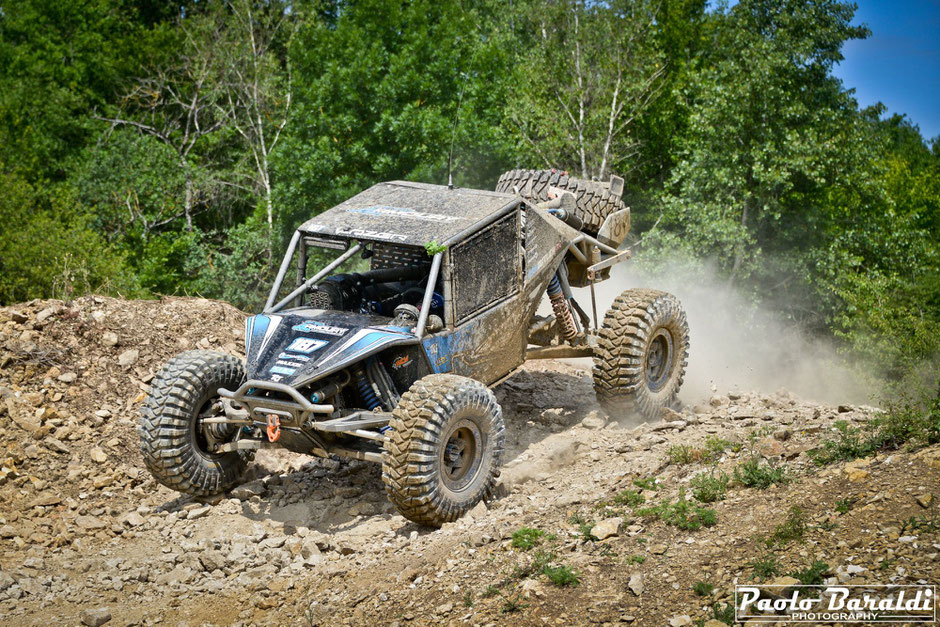 "We did it! 1st place at the 2019 Ultra4 Europe King Of France!
We stuck to our game plan and it totally paid off, that was a brutal course out there, some of the guys were attacking the course super super hard, but inevitably with consequences.... that nasty chopped out course was waiting to bite you in the butt at every turn. We just tried to run our own race in the cleanest way possible keeping a good race pace but without beating on the car any more than we knew it could handle... the perfect balance between brains and balls was needed for this one... "you gotta be in it to win it" as they say.
Thank you to our team for everything you do for us, and also to U4 for this fantastic new venue and a seriously great race. Defiantly a new milestone in progressing the sport here in Europe. If you were not at this one, it's defiantly on me to add to your diary for next year!
All the teams that took part you kicked butt, and it was an honour to do battle with you all."
Jim Marsden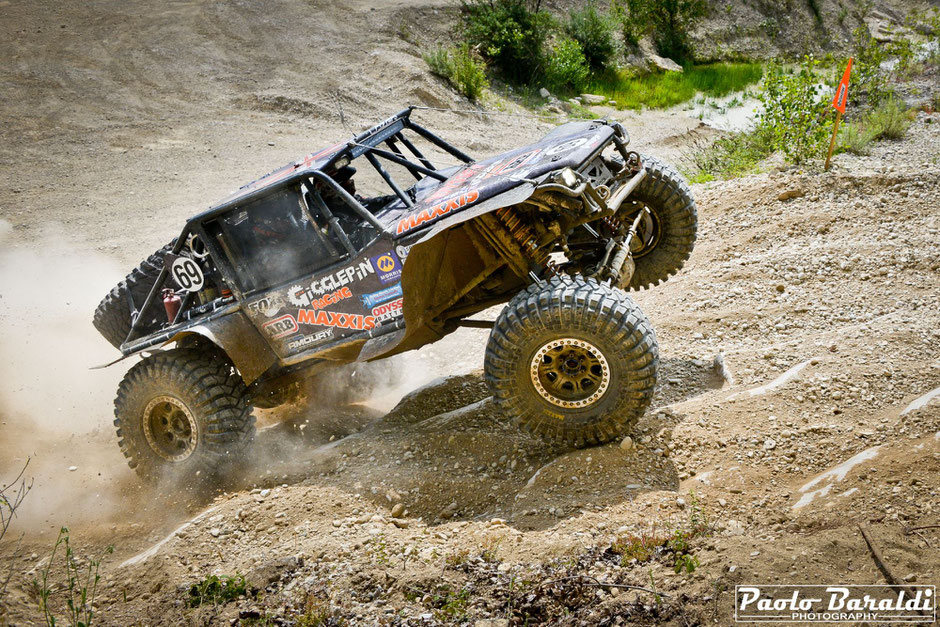 "King of France 2019 "Tough Love"
After the wet weather of Ultra4 Racing King of Spain it was fantastic to see the sun shining in France. But with the sun shining could we still keep up the pace and continue our winning streak?
The prologue was a fantastic 2 km blast with jumps, drifts, side slopes and an epic downhill to keep you focused. We were last off the line and knew that anything other than perfection would not be enough against this talented high horsepower field. We smashed it bringing it home a mere second ahead of our Maxxis Tyres (UK) teammate Rob Butler, in is his IFS car, to take pole position for the next day's race. Then it was back to the pits to check over Little Lady for the next day's racing and it's a full on international affair. Helder da Rocha from Portugal is back in the co drivers seats, Staci Reeson, Matt Weeks and Steve Grant traveled from the UK, then its newbies Brian Agius and Thomas Tanti all the way from Malta. There is a plenty of laughter and fun as the team get ready for the next day and the work is easy.
Day 2 starts with bright sun and blue skies and temperatures in the high 20's forecast. We are first off line with cars leaving every 30 seconds after us. The first 5 km of the 7km track fly by and Little Lady feels amazing! Then is clank, bang ,clank, bang rattle… We can't believe it and stop to find that the front propshaft Universal joint has lost a clip! School boy error that could cost us the race.
Helder runs back to the pits and the pit crew make sure there is a new one waiting for him while I get the old one off the car. We are back up and running inside of 10 minutes and make our way round the course only to be red flagged at the start line. "What's happened? We ask and find out that a German car has rolled blocking the course and stopping the race. This is very lucky for us and we restart in 7th position. We get a good pace going and overtake 5 of the 6 cars in front of us including, Nicolas Montador, Emmanuel Costa, Cedric Mudracer and Axel Bürmann. We didn't get to pass Rob but did beat him on adjusted time by over a minute. It's a great start. The format to this race is fantastic, three one hour sessions with a about 1.5 hours in between for servicing, which made for great racing. In Session two we kept the pace solid, started first and finished first completing 5 laps once again with average lap times of around 10 minutes and 20 seconds. But we know that if someone really lays it down that 6 laps inside an hour could just be possible and a race winning strategy. But who would take it on? We started our third session and it went wrong after only a kilometer as my door net flew open. We lost 20 seconds sorting this out and it looked like a 6 lap strategy was out of the question. Back on track we were raising the tempo when Staci came over the coms to tell us that Rob was banging in times sub 10 minutes and was on track for 6 laps! Time to get the hammer down! Helder called the shots and I kept it smooth and tidy as our lap times tumbled. By lap 5 we were well on course for 6 laps and Rob had backed off after suffering a puncture in his chase. We start our 6th lap and we are flying! But we get caught in lap traffic and although they are fast, they are not fast enough, holding us up for valuable seconds. Helder is working the horn like a mad man and I am now tapping our course blocker to try get him out of the way. Then we are past and I engage warp drive. "Jim we have only 2 minutes" says Helder as we power through the 5km marker and have 2km more to go. This is going to be really close. We fly through the infield on two wheels and cross the line. Helder thinks we have done enough, but all to soon we get conformation that we had missed it by 2 seconds. Gutted, but what a laugh.
That night the team worked hard to make sure Little lady was ready for battle again and for the final two, one hour sessions that waited for us on Sunday. In high spirits and a solid 13 minute lead we line up for the start. The plan is simple, keep it clean, keep it tidy and no heroics. The first session on day 3 went well, we started first, finished first, although we were second on adjusted time after a flying Emmanuel Costa beat us by a few seconds, but he is two laps behind so not a problem. Back in the pit we checked, rechecked and checked again. Our Maxxis tyres had been fantastic and we were one of the only crews not to have suffered punctures on this brutal course. But could they continue to take the punishment? As we started the final session only 1 hour of racing separated us from our 4th consecutive title. Game on! The first two laps were text book and we backed off the pace just enough to be safe as our Fox shocks soaked up the ground. Lap three was going great until we entered the quarry zone "Helder, we just lost the rear brakes" I said although I wasn't too concerned. We could clamp a damaged pipe. 50 metres later as we start to climb out of the quarry the back end of Little Lady just falls away and it's clear that we are in serious trouble. Helder jumps out to look "Jim the whole rear wheel and hub is at the bottom of the hill" Ahhhhhh how could this happen? What could have caused this? One thing is certain we cannot continue and our race is over. It's a bitter pill to swallow after dominating and controlling the race through every session. But that's motorsport and as the winners celebrated we worked as team with plenty of laughter and smiles to get Little Lady back to the pit.
A huge congratulations to 1st place Rob Butler, 2nd placed Emanuel Costa and Gerardo Sampaio and 3rd placed Bernd Schafer and Alexander Schonbrunn
The Ultra4 Europe King of France 2019 was tough, really tough, but we loved the course and the format. Our team was amazing and although we did not win the event, we felt like kings with such good friends to help.
Thank you all our incredible team at home and abroad, our wonderful families and our incredible sponsors and supporters.
You can't win them all, but we will be hunting that top spot again very soon."
Rudy Farrugia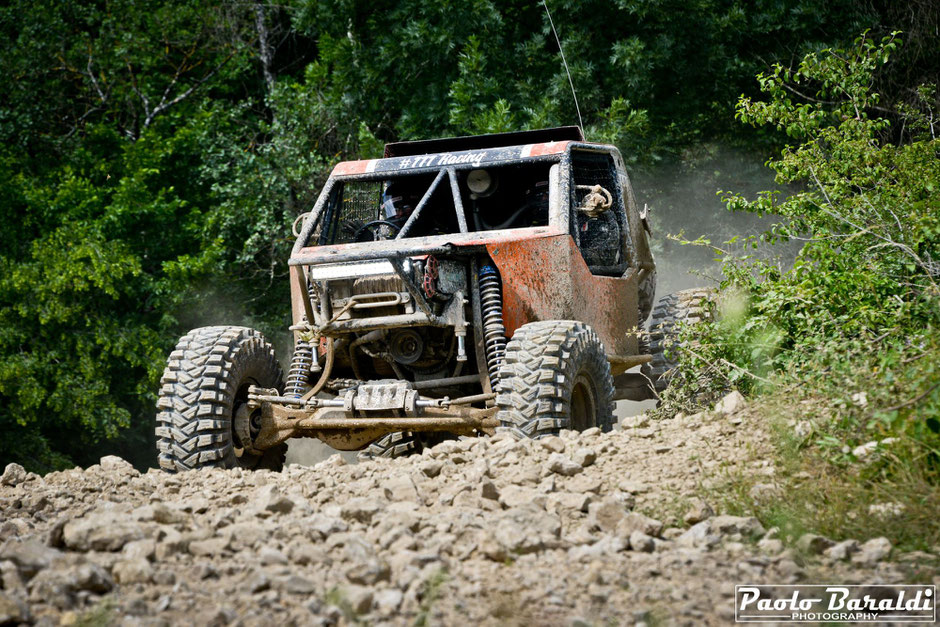 "King of France 2019. What a weekend and what a race! 21 competitors in the unlimited class racing through the tight and rough terrain this place had to offer!
Qualifying: On Friday it didn't quite go to plan, but instead pushed it too hard. We hit a rock hard on qualifying, tore off a rear link which than broke our driveline, exhaust and both rear suspension.  We welded back the link, changed the prop shaft, customized our new exhaust but couldn't do much about the rear shocks for we had no spares and just wished for the best. We had a DNF a few meters from the finish line for the car was too damaged to get to the finish, setting us back to 21st place on Saturday morning.
Race day 1: Sat we had to race 3 heats were anyone can make as many laps as he can in a 1 hour bracket. We knew lap traffic was going to be a killer, for we left at the back of the pack and that was quite difficult to cope with, on a tight course like this. We were fast but wanted to stay consistent knowing we had both rear suspension damaged. On the 3rd heat on the final lap on the way to the finish line we went wide on a corner, made our way up on a two meter bank and tried to drive off the side instead of reversing back. That didn't work out well and we ended up driving off course into a bunch of trees in a ditch... The car wasn't damaged, we only topped it with oil and changed the spark plugs. Both me and my co driver were totally fine! We even had a laugh when trying to explain how we managed to end up rolling over in that spot to whoever was there. We had a fast day with no issues and after all we had been through that day, we jumped up from last to 10th place so we were all happy with the progress we made on the day!
Race day 2: On Sunday we raced two heats with the same format. We left from the middle of the pack and that helped much more. No issues with the car again, we raced fast and clean finishing the event without even changing a wheel. At the end of the day we gained another position so we finished the event in 9th place overall. It was a great race and learned so much from this experience.
Our goal this year is to race the Championship to get more seat time and learn to push Debbie to her new limits. Hard work from race to race and travel time to get to and from races is going to be hard but never give up.
Thanks to many cool people that make it happen every time before and at the races. There are too many to mention here but special thanks goes to Anubis for helping us build a strong car, LRonly for any support, CJ power tuning for taking care of Debbie's heart and all our crew for all their sacrifice.
Well done to everyone involved and the to the podium finishers for racing hard all weekend, including Jim Marsden who lapped us every heat and literally drove the wheels off the car. Well done too to a new team in Ultra4 Europe from the UK who entered their first Ultra4 race in a new car in a smaller class and placed first too. These guys helped us out with our repairs while they were fixing their car to race next day. You guys are amazing!"
Inaki Lanzagorta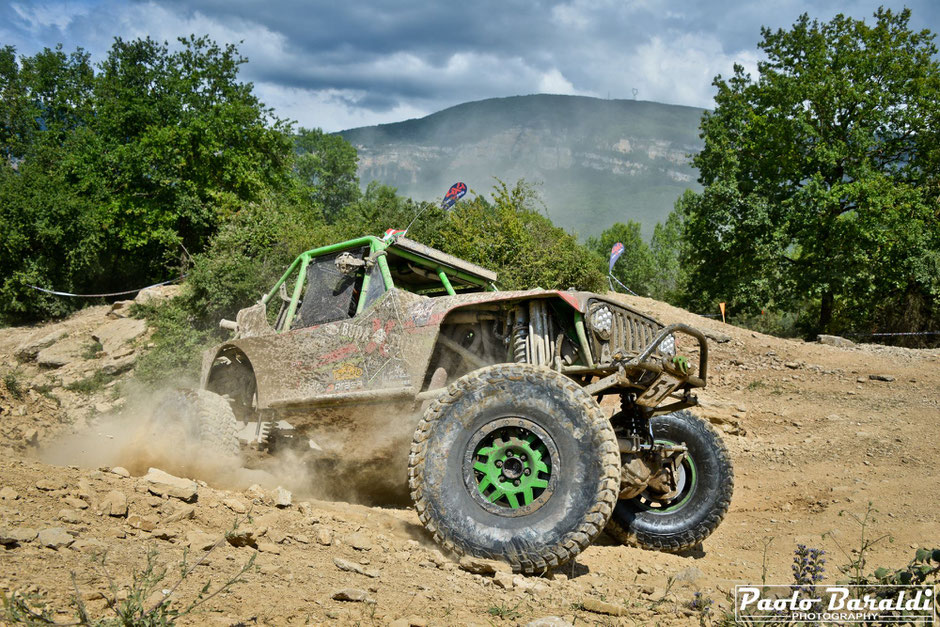 "Last weekend we went to the French Alps to attend the second race of Ultra4 Europe. Without a doubt, the change of location has been a success.
On Friday we started the day doing two laps of recognition to the circuit. The route was very buzzing and technical, very easy to crack tires, quite fast and with some 4 technical zones interspersed. The same prologue is made on Friday afternoon. We left concentrated but in the first corner after a fast chicane we eat a curve to the left and we lose several seconds. This relegated us to position 14 on the way out.
Saturday. We had three heats of 1 hour each separated by an hour and a half. At 10:00 am we line up on the starting grid and at 10:30 am we go out one by one at 30 second intervals. The first cars came out very strong and this had consequences. In the first lap a German car overturned in an area of difficult access and cutting the passage for at least half an hour. Race direction decided to neutralize the race and leave again all from the starting line. There were 4 laps in total and we were recovering positions. In this first manga Iñaki had stomach problems, and at the end of the last lap he vomited the n march. We continued with the next two legs dragging those stomach problems and ended the day to one lap of the first and recovering up to 5 position. Redondo Workshop reviews the car and it is seen that the ball joints of the front axle have settled and have been working loose, a re-tightening is made and to follow. Car "ready" for the next day. 
Sunday. Thanks to the advice of RTRacing 4x4 and Offroader life we solve our stomach problems and go to the first sleeve stronger than ever. We started to roll in times of head and we are going up positions. In the second round of this first round, entering one of the technical sections noticed that the direction of the car does not respond well, something happens. Jabi gets out of the car and confirms my suspicions. The upper right ball joint of the front axle had been broken and we had lost it. This manga is over for us losing 3 wonderful turns. We wait for this manga to end and we return to the pits on the shortest path guided by a Marshall. There is everything ready to start with the repair and repair for the next and last manga, fight to the end. We realize that with the kneecap that has fallen, the cone where the kneecap fits is also gone. I gave it all for lost but Roger and Jabi did not give up and went to find the piece that we had dropped, crazy! And they found it !!! Facundo Redondo Del Valle and Ernest Bonet changed the hose in 28 minutes and we were able to give the 5 lap of the last race making better lap times.
We gave everything for everything but it could not be, we stayed sixth and we continue learning to be able to give you a joy sooner rather than later."
Nicolas Montador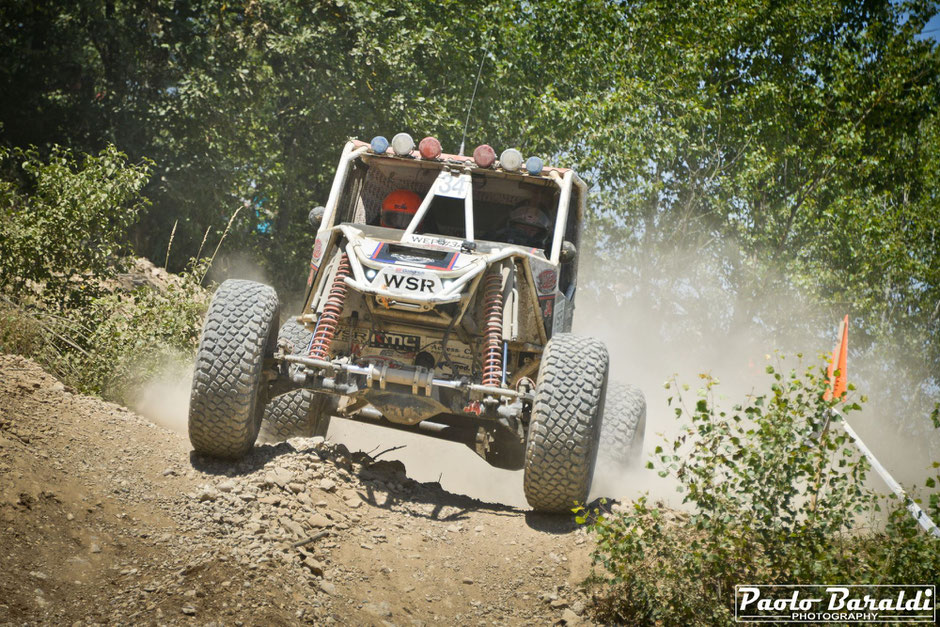 "The weather was since the start very hot but it was for change from wetty KOS. Than we qualify in 6th position, good position for chase but because plans are made especially to be changed some littles things made the start harder and the saturday race finished with 10 laps missed. Anyway after some fixing we will be ready for sunday. Never give up we will be (I mean WE me and the 34) fab. We took the last position for the restart on the 4th heat and we finished 3rd and we won the last heat. The BF Goodrich tires were fab, none flat tires and just brilliant."
Stijn Vekeman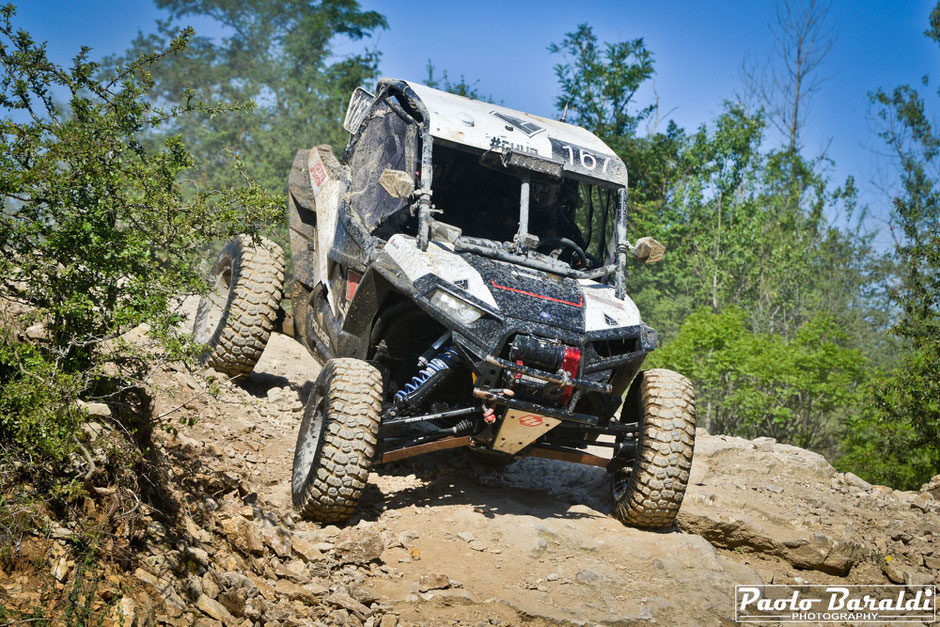 "King of france. It was a hard race on a very technical terrain but very nice and fun.
After loosing a belt on heat 2 day one we were 2 laps behind we managed to take 1 back on heat 3.
Day 2 we started 2nd and kept pushing finishing the heat just behind Nicolas Truchi and took first place for the heat. The second and last heat we started first and kept pushing and hold the lead and finished the heat in first place. Still being one lap short behind Nicolas. We finished 2nd overall for the King of France 2019.
We are very grateful for the help we had from team 68 Offroadterror. We love the course and race format!
Big thanks to the course organization for that awesome race track!"
---
---
---