Non smetterò mai di essere affascinato della creatività costruttiva degli americani. Ogni volta che visito la California per la King of the Hammers scopro veicoli eccezionali. Questa volta vi voglio parlare del Trophy T costruito da Tim Odell della Vice Unlimited.
Foto e testo di Paolo Baraldi


Non posso negarlo. Sono innamorato della cultura automobilistica americana in genere e di quella fuoristradistica in particolare. Sono affascinato dalla capacità di modificare con stile le automobili e creare delle vere e proprie opere d'arte. Il mondo del fuoristrada americano non è da meno ed ogni volta mi stupisce con creazioni da lasciarmi a bocca aperta. Dai veicoli super tecnologici e performanti a quelli super cool, che riprendono aspetti della storia automobilistica a Stelle e Strisce, ogni volta è una piacevole scoperta.
A caccia di veicoli unici in Hammertown
La King of the Hammers è l'occasione perfetta per andare alla ricerca questi veicoli. Ogni anno, appena arrivo ad Hammertown, la prima cosa che faccio è una passeggiata tra le pit dei teams e attraverso gli accampamenti del numeroso pubblico che da ogni angolo degli Stati Uniti si ritrova nel Lakebed. Ogni anno trovo veicoli unici e fantastici. Aziende e privati hanno sempre qualche veicolo che mi affascina. La Hill Camino, la Trophy Rat, la Galaxia de la Baja ed il Race Tractor ne sono un evidente esempio.
Il bello, e forse la cosa più interessante, dello scoprire questi veicoli è conoscere i loro proprietari; persone fantastiche, disponibili e con storie meravigliose.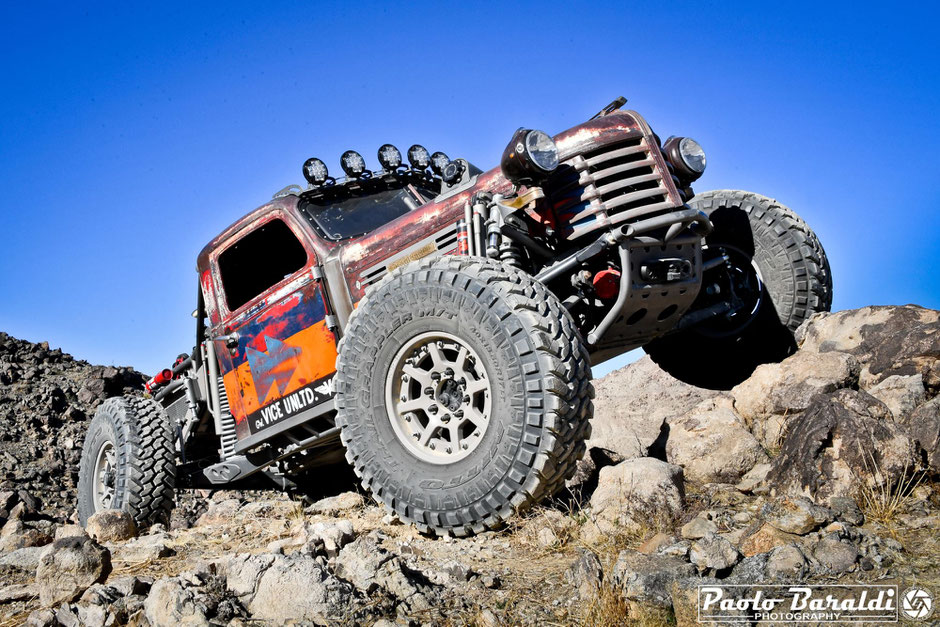 Anche quest'anno la mia ricerca non è stata delusa! Ho avuto il piacere di ammirare e fotografare l'Ultra49Ford di Sam Collins, Il Wrecker di Kenny Hauk e la Trophy T di Tim Odell. In questo articolo vi voglio proprio parlare di questo ultimo veicolo con la speranza di trasmettervi le mie emozioni e che anche voi ne sarete affascinati.
Trophy T, un veicolo Ultra4 vestito da Daimond T
La Trophy Rat di Keith Northrup, della quale vi ho parlato l'anno scorso, è stata l'ispirazione che ha spinto Tim Odell a costruire la Trophy T prendendo come base la carrozzeria di un Diamond T 404 del 1946. Tim Odell, proprietario di Vice Unlimited con sede a Lincolnton, nella Carolina del Nord, si è costruito la sua reputazione grazie alla creazione di veicoli estremamente unici.
"Vice Unlimited offre servizi specializzati e completi che coprono la maggior parte degli aspetti di una costruzione personalizzata" - mi spiega Tim Odell che continua – "sono sempre alla ricerca di come superare i limiti del design tecnico ed artistico e di collaborare con i leader del settore nell'innovazione automobilistica. 'Unlimited' significa proprio questo".
Con la Trophy T, Odell ha fatto proprio questo. Da un punto di vista funzionale la Trophy T è essenzialmente un veicolo da gara della categoria 4400 di Ultra4 Racing mentre l'aspetto estetico è basato su di un Diamond T del 1946. A differenza della Trophy Rat, la costruzione di Tim Odell è a quattro ruote motrici.
Oltre all'aspetto delle alte performance, ad esempio motore 364ci V8 LQ4 turbo da 650 cavalli,  i dettagli super raffinati sono l'aspetto tecnico più interessante della Trophy T. Dal telaio tubolare saldato al TIG all'old style della carrozzeria, che ricorda una Rat Rod, la Trophy T sembra andare oltre ogni classificazione di categoria di un'auto tradizionale. È tanto arte quanto è macchina.
A proposito di Diamond T
La Diamond T Motor Car Company fu fondata a Chicago nel 1905 da C. A. Tilt. Il nome della società fu creato dal padre di Tilt, produttore di calzature, che creò un logo con una grande "T" (per Tilt) incorniciata da un diamante, che voleva esprimere il concetto di prodotto di alta qualità. Il marchio sul cofano dei veicoli era invece un cane da slitta con un'imbracatura. Dalle origini e per sei anni (1905 – 1911), l'azienda si dedicò alla produzione di auto da turismo per poi indirizzare la sua produzione esclusivamente ai camion. Durante la prima guerra mondiale la Diamond T ricevette un ordine per 1.500 Liberty Trucks, il modello standardizzato di camion per l'Esercito degli Stati Uniti. Durante la seconda guerra mondiale, la Diamond T produsse camion pesanti modello 980/981 e l'intera gamma della serie G509 6X6 da 4 tonnellate oltre ad alcuni camion più leggeri e persino un mezzo cingolato: il G7102. La Diamond T si classificò al 47° posto tra le società statunitensi per il valore dei contratti di fornitura militare durante la seconda guerra mondiale. Quanto ai veicoli civili, la Diamond T produsse anche pick up alimentati dai motori a 6 cilindri della serie QX Hercules. La White Motor Co. comprò la Diamond T nel 1958 e nel 1967 l'azienda si fuse con la Reo Motor Company per diventare Diamond Reo Trucks, Inc. Durante i 56 anni di attività furono prodotti circa 250.000 camion Diamond T.
Come è stata costruita la Trophy T di Tim Odell
Tim Odell ha passato la maggior parte del tempo di costruzione della Trophy T per trovare la soluzione migliore per far "sposare" il telaio tubolare, classico di un veicolo Ultra4, saldato al TIG con la carrozzeria, che avrebbe caratterizzato tutta la costruzione, del Daimond T del 1946.
I 650 cavalli della Trophy T sono erogati da un motore, installato nella parte posteriore del veicolo, 364ci LQ4 GM V8 con turbocompressore ON3 Performance. Per la trasmissione è stato utilizzato un cambio 4L80e abbinato ad un riduttore NP205.
All'anteriore, il sistema sospensivo è IFS, cioè a ruote indipendenti con i triangoli realizzati da Odell, con ammortizzatori Fox coilover e bypass da 2.5". La parte centrale del differenziale è di un Ford da 9 pollici al quale Odell ha collegato, con dei semiassi, i giunti di un HMMWV (Hummer H1). Il blocco del differenziale è un Detroit Locker.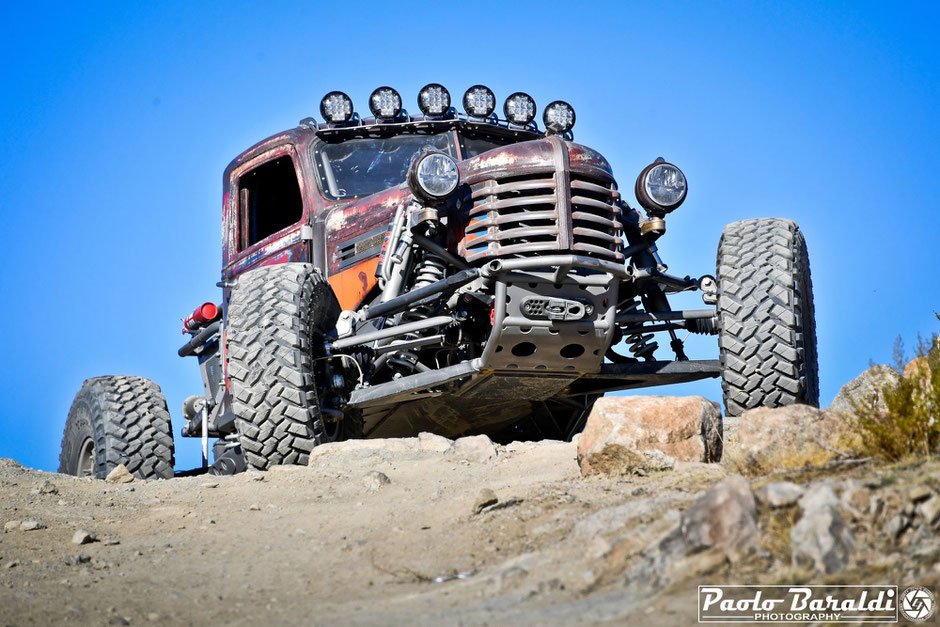 Il ponte posteriore è un 14 Bolt ribaltato in modo da avere più luce da terra. La perfetta lubrificazione del differenziale è garantita da una pompa dell'olio dedicata. Il blocco del differenziale è un Detroit Locker.
Il sistema sospensivo posteriore garantisce una grande escursione ed è costituito da due lunghi link inferiori con un triangolo superiore. Come ammortizzatori sono stati installati dei Fox coilover e bypass da 2.5". La stabilità del veicolo è garantita da una barra antirollio Currie Antirock.
Gli pneumatici sono dei Nitto Trail Grappler 40x13.50 R17 montati su dei cerchi da 17x8.5 Rock Monster con beadlock.
Se esternamente prevale l'aspetto old style del Diamond T, uno sguardo all'abitacolo rivela tutta l'anima sportiva di questa Trophy T.
I dettagli di questa Trophy T sono i veri protagonisti di tutta la costruzione.
Vice Unlimited
(704) 881-4128
1085 Curve View Rd.
Lincolnton, NC 28092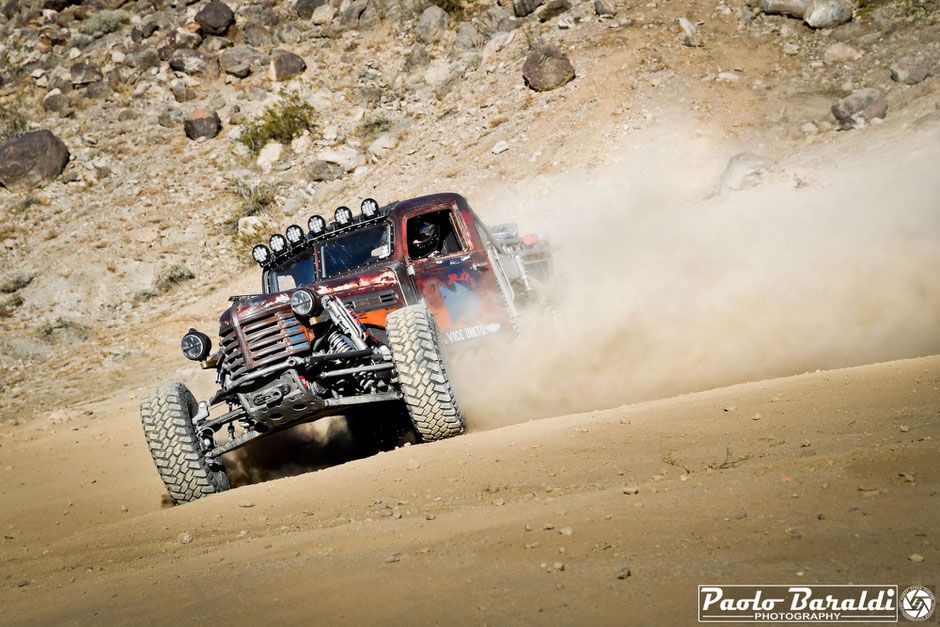 ---