La grande novità della KOH Week 2019 è stata la Toyo Tire Desert Invitational Presented by Monster Energy con i potenti e veloci T1 Desrt Truck che hanno entusiasmato tutti i fan della King of the Hammers. Luke McMillin ha vinto la gara portandosi a casa un assegno da 100.000 dollari.
Foto e testo di Paolo Baraldi

Sono grandi, sono potenti e sono veloci... sono i Desert Truck; la grande novità della KOH Week 2019. Toyo Tires e Monster Energy hanno messo in palio ben 125.000 dollari, rendendo questa gara una delle più ricche nella storia delle corse in fuoristrada, per attirare l'attenzione sulla prima edizione della Desert Invitational ed migliori piloti del deserto del mondo hanno subito accettato la sfida.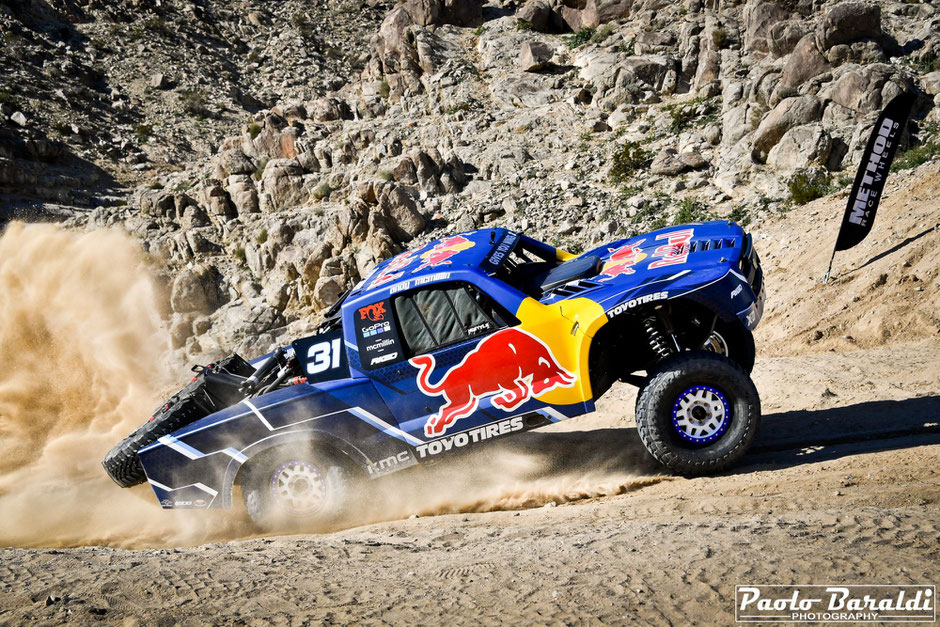 La settimana di Nitto King of the Hammers nella Johnson Valley ha la reputazione di essere la corsa più brutale del pianeta, ed i 25 piloti dei T1 Desert Truck hanno imparato molto velocemente che il logoramento non si limita solo ai famigerati percorsi Hammer. Il tracciato comprendeva tutti gli elementi che si possono trovare nel deserto: dai letti dei laghi asciutti ai canyon rocciosi. Inserito tra la l'Every Man Challenge e la King of the Hammers, il Toyo Desert Invitational ha fatto conoscere non solo ai 50.000 fan di Ultra4 nella Johnson Valley ma anche ai 2.000.000 di spettatori da casa i T1 Desert Trucks.
Prologo - Giovedì 7 febbraio mattina, non nella Short Course ma lungo in percorso nel deserto di 40 miglia, si è svolto il prologo della Toyo Tire Desert Invitational Presented by Monster Energy. In questa fase, i 25 piloti hanno potuto prendere confidenza con la Johnson Valley e con un terreno che in molti casi è stato diverso da quelli classici di questa specialità. Il prologo ha determinato l'ordine di partenza e Bryce Menzies (15:05.2) è stato il più veloce di questa prima fase, seguito da Apdaly Lopez e da Andy McMillin.
Toyo Tire Desert Invitational Presented by Monster Energy - La famiglia McMillin ha schierato in gara ben tre piloti: i fratelli Luke e Dan McMillin e il loro cugino Andy McMillin, vincitore di numerose Baja 1000. Tutti è tre i piloti erano tra i favoriti per la vittoria della prima edizione della Toyo Tires Desert Invitational presentato da Monster Energy. Andy McMillin è subito partito molto bene prendendo il comando della gara. Purtroppo dopo 110 miglia si è dovuto ritirare per la rottura del differenziale. Andy non è stato l'unico a soffrire di problemi meccanici, le 240 miglia della gara sono state una carneficina con pneumatici distrutti e differenziali rotti tra i guasti più comuni. Solo 8 dei 25 partiti hanno terminato il percorso e per fortuna che non hanno guidato nei trails rocciosi  classici della King of the Hammers.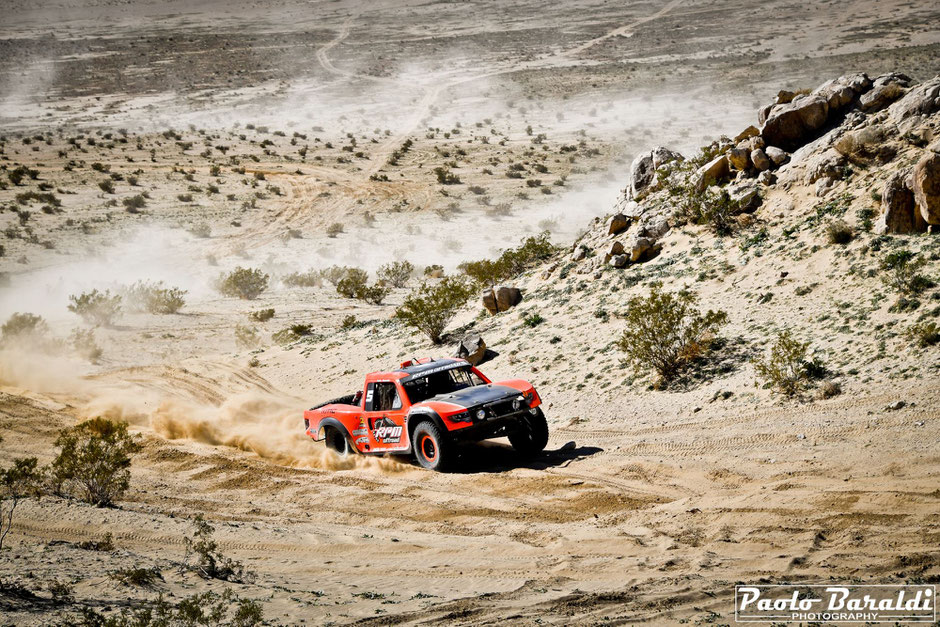 Dopo che Andy McMillin e Bryce Menzies si sono ritirati, Luke McMillin ha preso il comando della gara davanti a Justin Lofton. Luke è un pilota di terza generazione del sud della California; più giovane di suo fratello Dan e di suo cugino Andy, ha dimostrato in passato di avere del potenziale, ma non ha mai vinto una gara importante... fino ad ora!
"È divertente, questa corsa è diversa dalle altre nel deserto a cui siamo abituati. È difficile da descrivere", ha spiegato Luke dopo aver vinto la Toyo Tire Desert Invitational Presented by Monster Energy . "E' una buona corsa nel deserto vecchio stile come facevamo a Barstow ed a Plaster City. È molto diverso dalle Baja o da qualsiasi altra cosa, ma l'ho adorata! E' stata una gara fantastica." Lo stile di Luke è molto diverso da quello più aggressivo di piloti come Robby Gordon e Tavo Vidosola ed è stato ripagato con un giorno di paga di 100.000 dollari che investirà nel suo truck per renderlo ancora più veloce.
---
---
---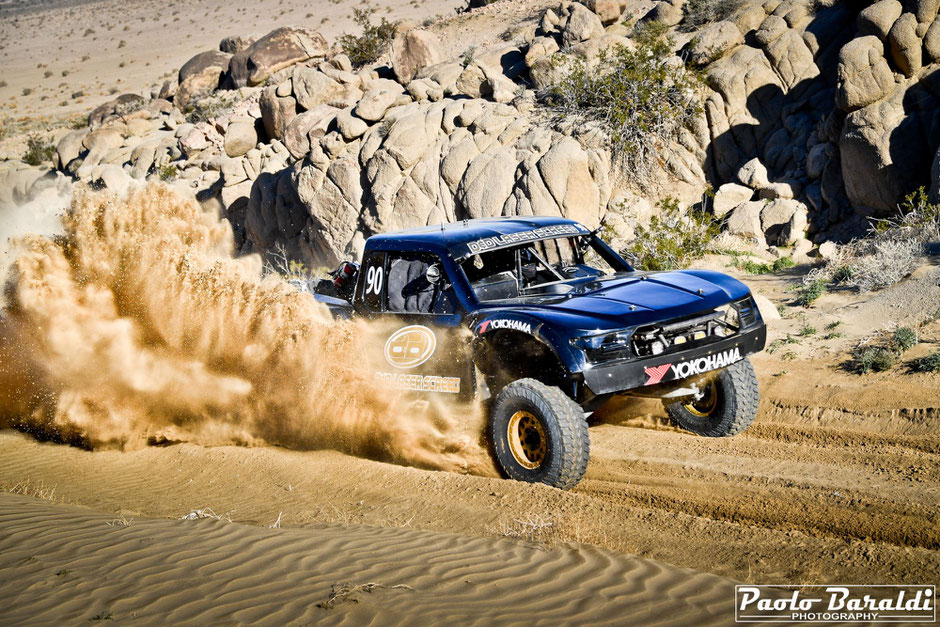 ---