Alla sua tredicesima edizione, la King of the Hammers è diventata un evento nell'evento senza pari al mondo. Una settimana interamente dedicata all'offroad che ha entusiasmato il numeroso pubblico presente nella Johnson Valley e quello che ha seguito la KOH Week da casa. Dagli UTV ai prototipi Ultra4, passando per i Desert Truck, lo spettacolo è stato di alta qualità grazie ai potenti veicoli ed alle abilità dei piloti in gara. Jason Scherer vince per la terza volta e la seconda consecutiva il Nitto King of the Hammers Powered By Optima Batteries 2019. Casey Gilbert il 4WP Every Man Challenge, Luke McMillin il Toyo Desert Invitational presented by Monster Energy, Will Stewart il Holley EFI Shootout Presented by KMC Wheels, King Shocks, and Action Sports Canopies ed infine Mitch Guthrie Jr. il Can Am UTV King of the Hammers presented by HCR.
Foto e testo di Paolo Baraldi

Quello di febbraio con la King of the Hammers, da ormai 13 anni, è diventato per tutti gli appassionati di offroad uno di quegli appuntamenti a cui è impossibile mancare. 50.000 spettatori, nel Lakebed e 2.000.000 da casa, grazie ai numerosi live steaming, hanno seguito la KOH Week che ogni anno diventa sempre più ricca e spettacolare. Il centro dove tutto accade è Hammertown; effimera città che sorge velocemente dal nulla nella Johnson Valley, nel deserto del Mojave, e che altrettanto rapidamente svanisce dopo l'evento. L'edizione 2019 della KOH Week è iniziata venerdì 1 febbraio con i pre-runnings e si è conclusa sabato 9 febbraio con la cerimonia di premiazione e con la Genright KOH Experience. L'unico eventoa notturno della settimana è stato l'Holley EFI Shootout Presented by KMC Wheels, King Shocks, and Action Sports Canopies. Will Stewart è stato il più veloce a scalare il percorso roccioso di questa breve ma intensa gara. Vivere anche solo da spettatore questa esperienza è una cosa unica ed indimenticabile; pensate a potervi partecipare come pilota? Quest'anno, 6 teams di Ultra4 Europe hanno avuto questa unica opportunità e si sono messi in gioco al fianco dei grandi nomi di Ultra4 Racing vivendo quello che per molti è un sogno irrealizzabile.
Can Am UTV King of the Hammers presented by HCR - Quest'anno gli UTV hanno aperto la settimana della King of the Hammers con le qualifiche che si sono svolte sabato 2 febbraio per poi andare in gara domenica. Colpi di scena, rotture e ritiri hanno caratterizzato la Can Am UTV King of the Hammers presented by HCR che alla fine si è conclusa con la vittoria per il secondo anno consecutivo di Mitch Guthrie Jr. Leggi tutto
4WP Every Man Challenge - Lunedì 4 febbraio si sono svolte le qualifiche per il 4 Wheels Parts Every Man Challenge dedicato alle categorie inferiori di Ultra4: la Yukon 4500 Modified Class, la Spidertrax 4600 Stock Class e la Branik Motorsports 4800 Legends Class. Nella Short Course si sono sfidati i vari piloti per far registrare il miglior tempo e quindi accedere ai migliori posti della griglia di partenza della gara. Casey Gilbert, classe 4800, (02:38.1) è stato il più veloce di tutti ed ha anche vinto l'EMC che si è svolto mercoledì 6 febbraio. Leggi tutto
EMC Stock Jeep Gladiator - Nella categoria Stock, ha attirato molto interesse la nuova Jeep Gladiator preparata da Savvy Offroad e guidata da Erik Miller e Robby Gordon. Nelle qualifiche hanno ottenuto il miglior tempo di classe, mentre nella gara si sono classificati sesti tra gli Stock.  Leggi tutto
Toyo Desert Invitational presented by Monster Energy - I T1 Desert Truck sono la novità assoluta di questa tredicesima edizione della King of the Hammers. Giovedì 7 febbraio, dopo il prologo, abbiamo assistito ad una fantastica e spettacolare gara vinta da Luke McMillin. Leggi tutto
Nitto King of the Hammers Powered By Optima Batteries - I potenti veicoli Ultra4 della classe 4400 sono scesi in campo martedì 5 febbraio per le qualifiche lungo la Short Course. Nick Nelson con un tempo di 02:18.39 è stato il più veloce di tutti. Venerdì 8 febbraio si è svolta la gara che tutti aspettavano con ansia. Alle ore otto del mattino sono partiti i primi piloti per affrontare le 235 miglia del percorso. Molti colpi di scena hanno vivacizzato la King of the Hammers che dopo 6 ore, 32 minuti e 39 secondi è stata vinta per la seconda volta consecutiva da Jason Scherer. Leggi tutto
Genright KOH Experience - Poter guidare la propria Jeep sul percorso di gara della King of the Hammers è un'opportunità unica, resa possibile grazie a Genright Offroad. Sabato 9 febbraio, la carovana guidata da Tony Pellegrino sulla sua nuova Terremoto ha seguito il tracciato della KOH 2019. Leggi tutto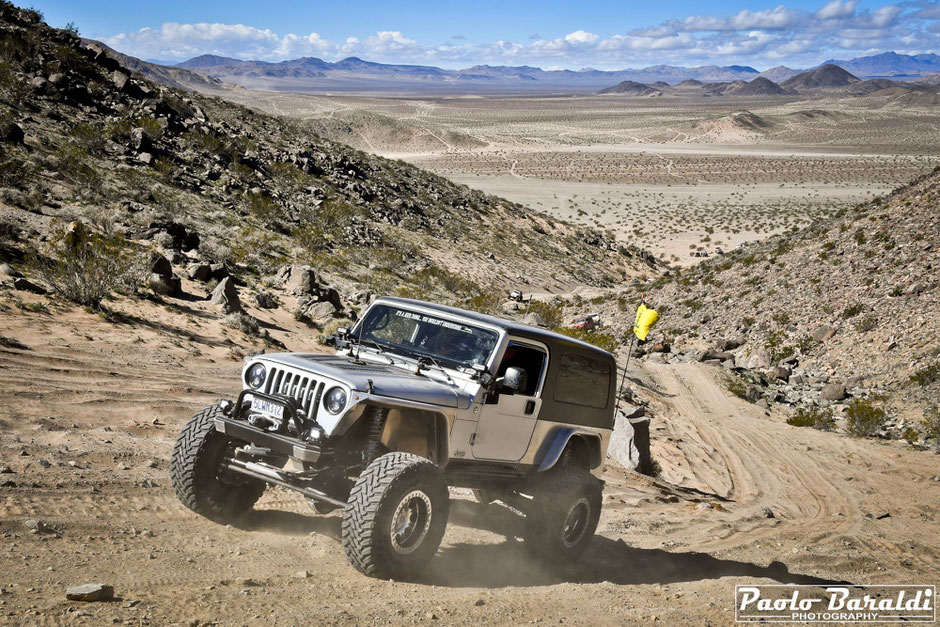 ---